Uber

Like

App Development

Take your business online with uber app clone. Get branded & customized app like uber with advanced features.

Get in touch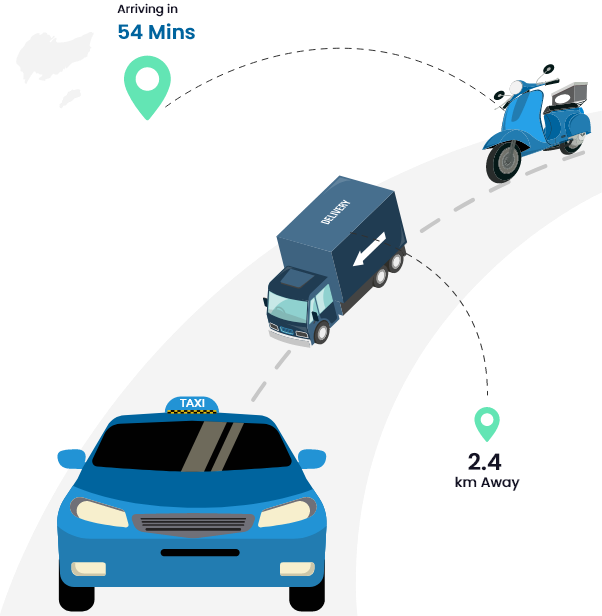 Custom
Uber for X

solutions

Think of an on demand service and we'll have an Uber solution for it.
Uber for Delivery

To execute delivery services like food, grocery, etc. efficiently

Uber for Trucking

To enable truck drivers use excellent platform for delivery or pickup.

Uber for Women

To allow women book ride with female drivers for their transportation

Uber for Food

To offer food delivery services with an Uber like app

Uber for Kids

To offer safe and easy ride convenience for kids

Uber for Pets

To give a pet-friendly Uber like solution to the customers

Uber for Photography

To offer on-demand photographer Uber like solution with the necessary features

Uber for Babysitter

To offer on demand application for babysitters or nannies

Uber for Doctors

To eliminate the gap between doctors and patients through excellent services.
We offer Uber clone solutions for all business ideas powered with robust technology
Industries We Cater
Get solutions in for all industries with our white label uber clone app development services.
One Stop Solution
Get the entire solution for your Uber like App & accelerate your business towards new height.
Customer App
01

Quick Bookings

Let customers book the services in a single tap whenever they desire.

02

Real-Time Updates

Provide customers real-time updates of their requests via push messages or in-app chats.

03

Seamless Payments

Get paid easily using one of the many payment options integrated in your Uber like app.

04

In-App Chats and Calls

Solve the queries of users using in-app chat or by calls to provide personalized experiences.

05

Booking History

Let users see the details of their past requests so that they can repeat it easily.

06

Ratings and Review

Users can express their experience by providing star ratings and reviews in your Uber like app.
Admin & Dispatcher Panel
01

Manage Users

View and manage records of all users registered in-app and analyze their profiles anytime.

02

Approve Requests

Analyze the profiles of service providers and approve signup requests from a single dashboard.

03

Manage Service Providers

Create app like Uber that will help you analyze the performance of service providers and award or pay them accordingly.

04

Manage Payments

Keep a record of all transactions happening over app & pay service providers hassle-free.

05

Price Management

Manage the pricing easily. Surge prices as per the situation to get maximum benefits.

06

Analytics

Get useful insights and analyze how your business is performing so that you can grow faster.
Service Provider App
01

Easy Registration

Let service providers add information and upload their documents in-app easily to get registered.

02

Real-Time Updates

Provide a simple interface to service providers so that they can manage bookings easily.

03

Order Details

Service providers should get detailed information of every order/request they need to complete.

04

Map Integration

In-app navigation is crucial for an Uber-like on-demand app to complete orders/requests on-time.

05

In-App Chat and Calls

Allow service providers to call or chat with customers in-app to serve them in an effective manner.

06

Track Payments

Let them track their payments and view pending payments to analyze their earnings and performance in-app.
Advanced Features
Integrate your Uber like app with advanced and top-notch functionalities.
Route Optimization

Save time and money on deliveries with integrated route optimization functionality.

Real-time In-app Chat

Service providers can communicate with the customers and vice versa through the app.

Customer Management

Get a flexible CRM solution to manage your customers and service providers efficiently.

Business Analytics

Manage your revenue streams and other analytical demographics with a business oriented Uber like app.

Heat Maps

Know which region can be given more attention with excellent heat maps feature.

Live Geo Fencing

Manage the distribution of regions for service providers with live geo fencing in your Uber-like app.
Build An App Like Uber With The Finest Uber for X developers.
Get in Touch
Best Uber for X
Development Company
Integrate your Uber like app with advanced and top-notch functionalities.
Web & Mobile App

Take your on-demand business online with an Uber like app with an excellent admin dashboard .

Intelligent Dispatch System

Build Uber clone & manage your on-demand company from a one dashboard with real-time tracking and automate dispatching.

Uber Like In-App Chat

Our Uber delivery app clone responds to client inquiries by enabling real-time in-app conversation between consumers & agents.

Get Running In No Time

A solid, scalable, and tried-and-true basic module to help you save time and get started with your own Uber like App service in less than a week.

Source Code

You will receive the entire Uber like app source code for your customer and driver Uber like app in both iOS and Android versions.

Personalize It Your Way

Develop an app like Uber, with innovative features that provide an exceptional client experience with a personal touch.
Uber for X Development

Process
Technology Stack
Node JS

Angular

Woo Commerce

Magento

Swift

Kotlin