How Much Does it Cost to Develop Mobile Banking Apps like Revolut and Chase?
4122 Views
|
10
min
|
Published On: February 13, 2022
Last Updated: June 3, 2022
According to a report by Forbes, 76% of Americans use mobile banking apps to complete transactions. However, even the largest fintech brands compete heavily to provide the experience that delights their customers.
If we talk about Millennials and Gen Zers alone, the adoption of mobile banking apps is approaching ubiquity, with more than 88% of both generations using their bank accounts via a mobile app.
But, where is this industry heading?
If you are planning to start a venture in the digital or mobile banking space, you must know that banks are not the only entities you have to compete with.
There are several other Financial Technology Companies that are making their mark in the banking sector by revolutionizing the way people manage money. From neobanks like Revolut, Monzo, N26 to traditional banks like Bank of America, Capital One, and USAA Mobile, every business is trying to leverage technology to the fullest for meeting diverse consumer demand.
Now, how you can secure an edge over these established players, depends on your business idea and how you execute it. Through this comprehensive guide, we are going to help you with some invaluable insights about the industry and an idea on how much it would cost you to start your venture in the fintech space.
This guide is intended to help all entrepreneurs who plan to enter the billion-dollar fintech market and win over their competitors. So, let's get started.
The Scope of Mobile Banking Apps: Why Should You Develop One?
Before investing money in any venture, you must be aware of the market potential and scope of your idea. Today, most of the banks in the USA provide a mobile experience. So, a mobile banking app is like a catch-up tactic for emerging banks and a battlefront for startups in the fintech space that they are utilizing in the best possible way.
On top of that, the deadly pandemic has surely played its role in increasing the usage of digital and mobile banking apps. The Global Mobile Banking Sector was valued at USD 715.3 Million in 2018 and is forecasted to reach USD1,824.7 Million by 2026, growing at a CAGR of 12.2% from 2019 to 2026. This growing demand indicates huge potential for the industry and also paints a brighter future.
Here are some more intriguing stats to make you believe that you are heading in the right direction:
Now that we know the scope and potential of the mobile banking industry, let's see some of the popular mobile banking app business models that are getting traction nowadays.
3 Popular Business Models to Choose From Before Building Mobile Banking Apps
How much it would cost you to develop a mobile banking app highly depends on your business model idea. Here are three types of working models that most of the apps in this domain follow:
1. Challenger Banks
A challenger bank is a bank developed with emerging technologies. Just like a traditional bank, it needs to manage its activities like credit risks, asset-liability management, and everything else. Their major source of revenue is lending, which means their goal is to grow their balance sheet. Exactly like a traditional bank.
A challenger bank has a bank license
It is regulated as a bank
It is a new bank and not a brick-and-mortar bank digitizing its operations
Example: Cogni
It is a New-York based bank providing personal checking accounts to users. Founded in 2018 with 6.2 million in the seed round, it provides consumers with benefits like bank account opening without even visiting a physical branch and managing their finances from an easy-to-use mobile or digital solution. Presently, it offers an iOS app only.
2. NeoBanking
A neobank is purely based on technology. More than a bank, it is a tech startup that focuses on providing a seamless customer experience by continuously improving the product for acquiring as many customers as possible. They are lightly regulated and their goal is to just acquire users, just like a tech startup.
A neobank is not regulated as a bank
It doesn't mean that it is not regulated
Most of the neobanks are authorized on models like e-money regulations
Example: Revolut
Revolut is the fastest-growing digital bank with diverse features and functionalities. From banking to international money transfer, and everything in between, Revolut has completely revolutionized the way people manage finances in the UK and Europe. It operates on a subscription business model and even provides services like international money transfer and insurance.
If you want to know more insights about what Revolut is, its revenue model, and why it is called UK's most valuable tech start-up, head to our comprehensive blog on Revolut Business Model.
3. Traditional Banking
As clear from the name itself, traditional banking refers to established entities digitizing their services. However, these types of apps are often considered slow, based on outdated technologies, and not easy on the eyes.
These banks tend to charge a higher fee
They are very conservative in their lending practices
Example: Bank of America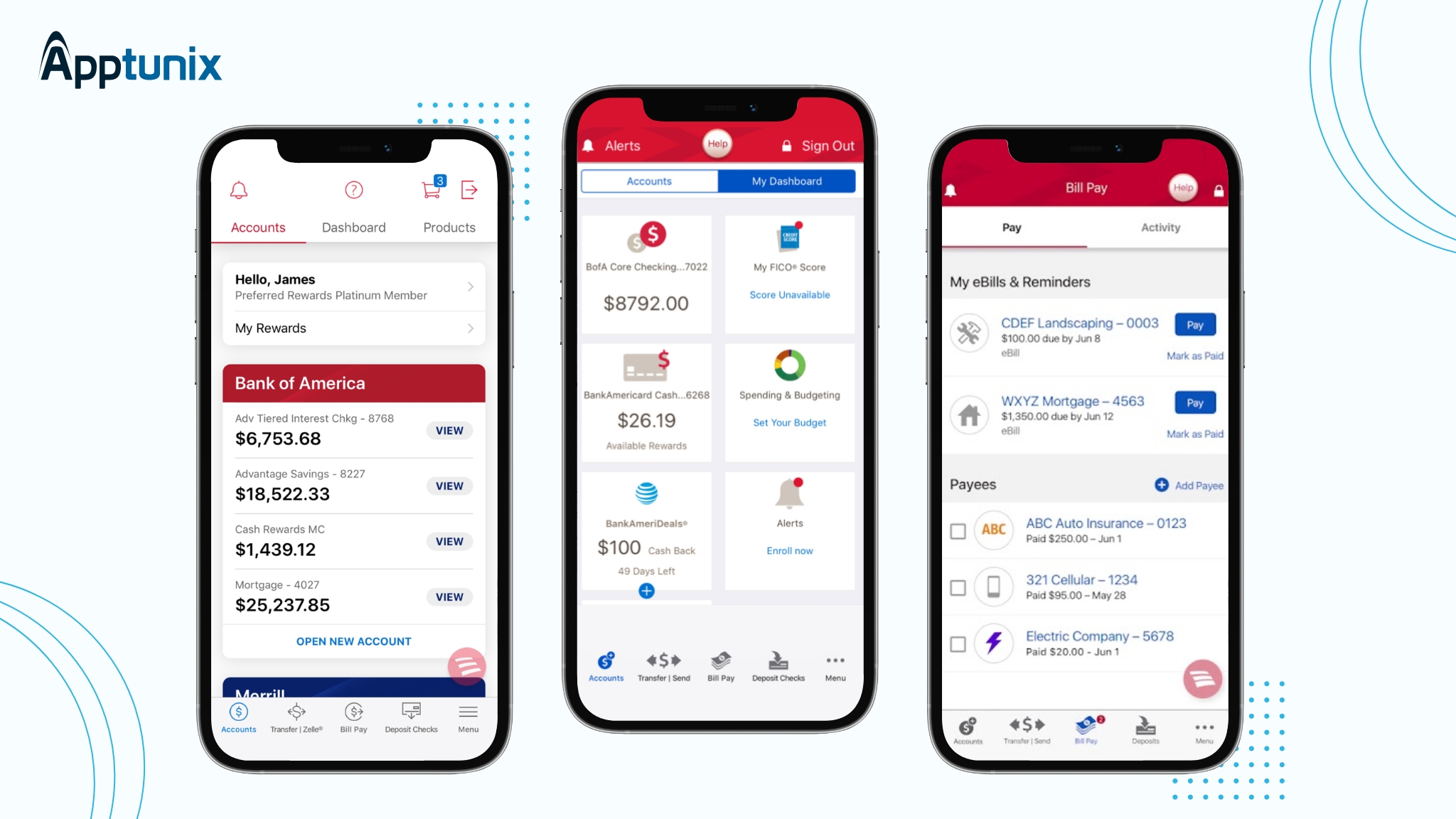 BOA provides its consumers with a mobile banking app that has several amazing features and functionalities like ATM localizer and virtual assistant. Being a traditional bank, it focuses the most on security features so that users can feel safe while using the app.
Let's find out how these business models are different from each other: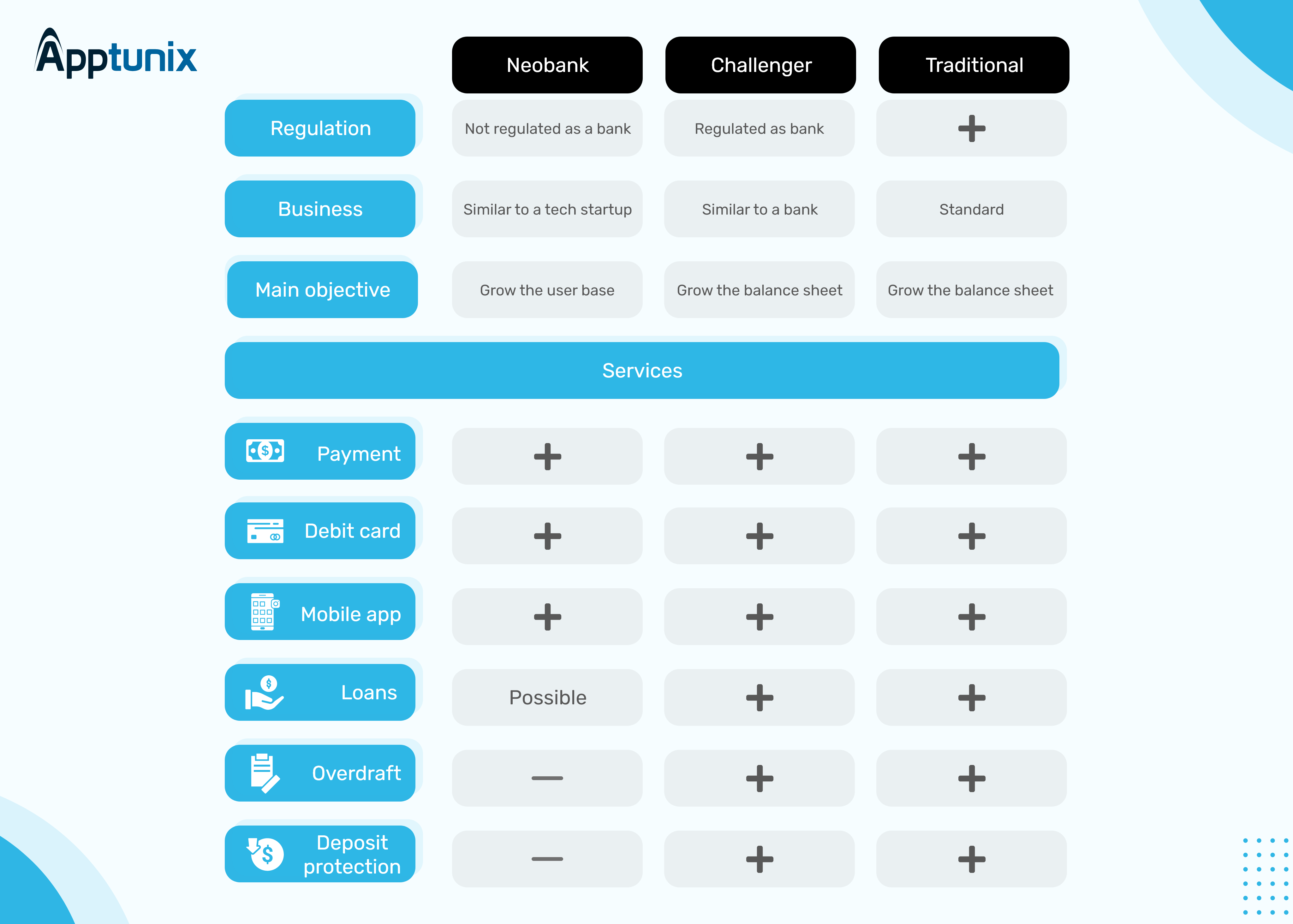 12 Must-Have Features for an Online or Mobile Banking Application
Once you decide on your mobile banking app business model, it's time to decide on the features you want to integrate into your mobile app. This set of features will determine the exact cost to develop a mobile banking application.
1. Onboarding and Personal Accounts
Your app onboarding process can make or break your customer experience. There are several factors that you should consider when designing an onboarding experience for your mobile banking app, including, but not limited to:
App tour guide: You should include an app tour before onboarding customers to make them familiar with the functions of your application.
Do not make it too lengthy: Keep in mind that these tours should be easy-to-understand, short, and capable of explaining why users need your app.
UI hints: Tell users where all the elements are located and how they can use them. Show these hints when users need them the most.
2. Secure Authentication
Security is something that matters most for mobile banking apps.
Thus, the process of registering and signing in should be seamless and secure. Let users log in using a password as well as a fingerprint. Access to login using fingerprint is a must-have feature for modern apps – it is safe as well as highly secure. To further ensure the safety of your consumers, ask for fingerprint or SMS authentication for every incoming session.
Just like traditional banking services, you need to establish a high level of security online as well. This is the only way to build a FinTech Startup that is profitable. You can make use of the following technologies to make your mobile banking experience secure:
Biometric authentication
Real-time alerts
Two-factor authentication
Data encryption
Behavior analysis
3. Payments + QR Code Payments
Making payments is the key feature of a banking application and fintech products. Therefore, much focus should be given to this feature. Along with making transactions between any bank, account, and card, you should allow users to make transactions for the following items:
Fines and loans
Taxes and Deposits
Travel and transportation
Public service
Donations
Game
Payment via QR code is another essential feature of mobile banking apps that will require access to a mobile phone's camera. It is advisable to develop a native mobile application to implement all these features seamlessly. With a cross-platform mobile application, you cannot get complete access to the device's features.
4. Push Notifications
This is one of the most important features that an app should have and we definitely can not imagine a banking app without the feature of push notifications. There are majorly two types of notifications that a mobile banking app user should receive:
Transactional – To inform users about all things related to their accounts
Promotional – To inform users about the fascinating deals, offers, and discounts
5. Transaction Management
Transaction screen is a screen where your customers can see all of their transactions, credit and debit ones. Basically, it provides consumers access to their transaction history that they can use for many purposes. Hence, it should be very systematic and clear.
6. Repeat Payments
Many users use mobile banking apps to make regular payments like health cover, insurance installments, electricity, etc.
To make sure your app stands out from competitors, you should build features that help consumers make their tasks hassle-free. One of these features is repeat payments. Your app should either automatically debit a fixed amount from a bank account or it can deliver notifications to users reminding them that it's time to make a payment.
7. Customer Service
Customer service is a feature that will make your user's experience worthwhile. You can provide customer services either through your support team via a messenger or calling helpline or through a support chatbot that will reply to user queries round the clock.
Though building a chatbot requires a different process and might seem a bit difficult as you need to know beforehand what your users might ask, it will yield positive results. Along with this, you will be able to solve your customer queries 24*7 while saving the support cost.
8. Spending Tracker
Money is important to all and users want to track their spendings every now and then. Thus, it is one of the most crucial features of your mobile banking app. A spending tracker includes:
Personalized reports: Instead of spreadsheets, give users all the information they need in the form of animations and graphics.
Saving goals: Provide your app customers with the ability to select their goals and let them set a schedule for achieving the same.
Budget categories: Let users make lists of different things like groceries, healthcare, and insurance to let them track where precisely they are spending their money.
9. Locations of ATMs and Branches
Through this simple feature, you can demonstrate that you care for your customers. Incorporating maps in your mobile app will help you show the locations of ATMs and bank branches. For Android apps, you can integrate Google maps and for iOS apps, you can integrate either Google maps or Apple maps.
10. Trading and Investing
Investing and trading are becoming increasingly popular in the fintech business. Allowing your customers to do so using your app can enhance the user experience and provide additional reasons for customers to select you over competing banks.
11. Splitting Bills
The everlasting problem of splitting the bills after spending on common expenses seems hectic to many people. Solving this problem for your customers will again give you an extra edge over other competing banks and an additional reason to customers for choosing your business over others.
12. Cashback
Who doesn't love rewards? Adding rewards for your users in the form of cashback will attract them to use the application often. When you are allowing them to pay using your mobile app, why not lure them with cashback and make more money from merchants.
3 Features Specific to Neobanks and Challenger Banks (The Reasons Why They Have an Edge Over Traditional Banks)
Neobanks use mid-market exchange rates and provide seamless and fast international money transfer services. In just a few taps, users can open a bank account with no delays, fees, and paperwork. The worldwide network of ATMs is another advantage of challenger banks that provide them an edge over the competitors.
The customers of these banks can withdraw cash hassle-free from anywhere in the world. Let's see how their development is different from traditional mobile banking apps:
1. Open Technical Infrastructure
Neobanks or apps like Revolut use an open rather than outsourced tech stack which empowers them to build "plug and play" emerging solutions.
Based on microservices architecture, neobanks eliminate the disadvantages of slow-working and heavy monolithic architectures of traditional banks (because of which conventional banks face difficulties in adding new features).
2. Data-Powered Operations
Traditional banks still store their data online as well as offline. Therefore, unlike neobanks, they cannot do easy real-time data monitoring and analysis.
On the contrary, neobanks or challenger banking apps like Chase use data intensively to shape their business model. To evaluate the requirement of built-in data analytics in fintech solutions, Tableau interviewed FinTech players and more than 50% of the respondents said that the integration of business intelligence tools is essential in tech platforms.
While traditional banking focuses on the portfolio of the product, these emerging banks put convenience and other needs of customers at the heart of their business models. Thus, if you are planning to compete with them, make sure your solution is data-oriented.
3. API Layer
By providing BAAP (Banking as a platform), neobanks utilize open APIs to provide not just a seamless user journey but also utilize more opportunities to increase sales and get more customers. According to Business Insider, the white-label banking market will reach $2 Billion by 2024.
To cite an example, an Australian neobank Up is creating its next-gen API and promising users a more creative approach to money management. They even recently launched its test API which received a lot of traction.
The Cost of Developing a Mobile Banking App at Apptunix
As we have seen, a mobile banking app is full of features and must have tight security. Thus, developing it will surely cost a big amount. Now, how much exactly will it cost depends on a number of factors like features you want to add, the tech stack you select, and the location of your app developers. If you hire mobile app developers in the USA, it would cost you almost 7X of the money that you will pay if you hire app developers from Asian countries.
Plus, you will get to choose resources from a global talent pool and develop your app using international coding standards. While we can not provide you with an exact figure on how much it would cost you, we can give you a ballpark number.
For example, if you hire mobile app developers at Apptunix, we would complete your project in fours steps mentioned below:
Stage 1: Product Discovery: To commence with, we will research your app idea and target audience to define and understand the target problem and state the scope of your idea. This process can take anywhere from 1-3 weeks and our team of expert market researchers will work on your idea validation.
Stage 2: UI/UX Designing: Depending on the problem statement that we will define during step one, we will create user flows and wireframes of your application. Our main goal during this step will be to create a seamless customer journey. The UI/UX designing phase can last for about 2-5 weeks.
Stage 3: Mobile App Development: That's where the magic happens. During this step, our expert backend developers will develop APIs to put all things together. We will integrate all the features required for your app in this stage. The time estimate for this stage completion will depend on the number and complexity of features that you want to add.
Stage 4: App Launch: The final step is app launch during which our team provides full support to clients in order to ensure their solutions meet app store guidelines and rules. Even after the app launch, we stand strong with our clients and make sure their solution stays up-to-date always!
Swift Send – a Success Story by Team Apptunix
We have a proven track record of successfully developing and implementing mobile banking app ideas. Software solutions developed by our team are used by millions of users across the globe.
Just last year we developed an app called Swift Send for one of our clients in the UK and successfully delivered the project within a few months. For Swift Send, we did everything from market research to front-end, back-end development, testing, and much more.
Using the app, customers can send money internationally within a few taps and it also lets them track transactions. If you want to know more about how our team developed Swift Send, talk to one of our business development experts and get full information. Get in touch!
Wrapping Up
The FinTech industry is full of potential and immense competition. That's the reason why developing a mobile banking app will require sufficient effort. But, if you stick to the plan and hire the right mobile banking app development team, you can win any battle in the mobile world.