Future of On-demand Apps Today and beyond
5786 Views
|
3
min
|
Published On: March 5, 2019
Last Updated: October 10, 2022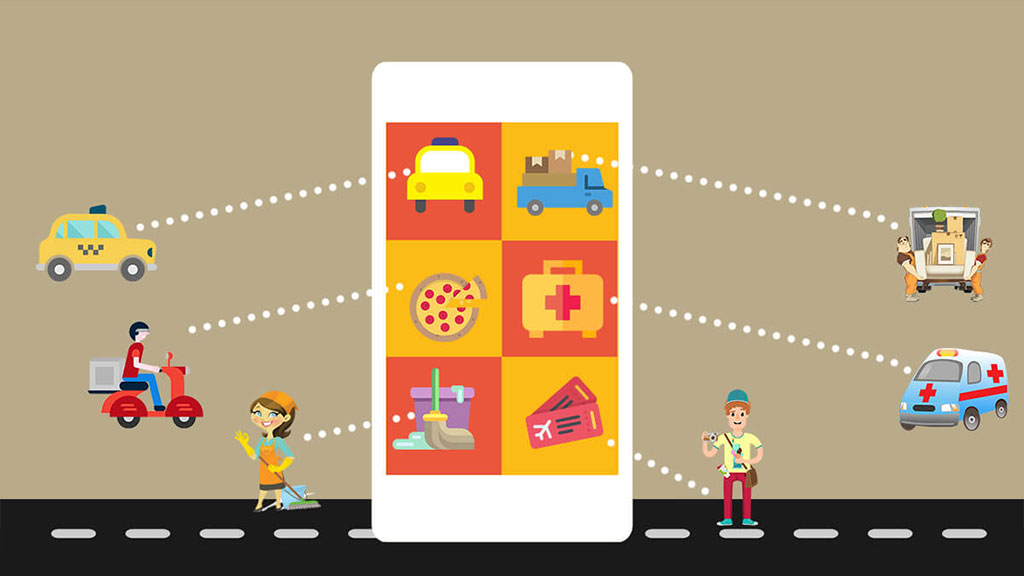 In case you have not paid heed to the elephant in the room, an on-demand economy which is surpassing all businesses models climbing success ladders swiftly. From taxi to food, from medicines to groceries, everything can be booked and delivered to you via your mobile phones; all thanks to on-demand apps.
Research by Harvard business school shows that on-demand economy attracts around 22.4 million customers annually with total spending of more than $57.6 billion.
So…
If you are in an illusion that on-demand apps will fade away soon…
You are Wrong!!
Out of the on-demand users, around 49% are millennials, whereas around 30% fall between the age group of 35-54 years, concluding that the activity and growth of these apps will see a huge rise in the upcoming years.
Moreover, on-demand is a movement will technology companies as its beacon, who in order to lessen the gap between customers and their goods/services find ways like this one.
Some examples of comfort at your fingertips are Netflix, Uber, Airbnb, Amazon Prime, Doordash, Lyft, Uber Eats, Maven, Turo and lots more.
Growth of On Demand Apps
After the applauds and hype of Airbnb and Uber, customers want to be satisfied in an instant. Smartphone are the most important game charger in delivering smiles and convenience to people across the globe.
The on-demand apps on these wonder gadgets are bringing life to dead business and facilities to our beck & Call. The biggest piece of the on-demand piece is online marketplaces which fetch a business of more than $35.5 billion every year. Transportation bags the second spot with a business of $5.6 billion followed by food and grocery delivery which fetches around $4.6 billion.
Other categories which make a substantial say in the list hold a proportion of around $8.1 billion in categories like freelancer and home services, and $3.8 billion for other leftover services.
The increasing demand justifies these numbers. Anything that's uniquely solving people's problem or simplifies any complex process gets a thumbs up for an on-demand app.
The present scenario of on-demand app economy is such that whatever be the industry you'll find a full-fledged on-demand app working it in real-time.
Right now, even when the world has endless mobile users who are always up to spend money on any on demand service, there are still a large number of businesses who still have to cross the fence into the on-demand world. This is because a part of the business world feels that on-demand is a bubble which will soon burst spilling all businesses all along.
P.S-We have statistics to prove them wrong.
The Future of On-Demand Economy
This way or that way on-demand has hit us in the right places, we just need to take this hit in the profitable direction. The secret ingredient in this success biryani is not technology, but the way in which businesses are blending them like their customers want and vice-versa.
This impassive demand for on-demand services is one of the biggest addictions of today's world; the future will make it every humans' elixir. On-demand's growth has brought about a revolution across all major industries, and the following changes will make our lives even more easier and the businesses even more profitable.
Welcome the New On-Demand Services Bonanza
Whenever there's a talk about on demand apps the first few names that pop out are Uber, Airbnb and few more, but the truth is that on-demand is much more than that. Nowadays, we have thousands of marketplaces which have risen from all around the globe. There's only one star player and its not technology. The focus is more on solving a universally prevailing problem for the customers and thereby eliminating the friction which exists long before the mobile apps came into being.
More and more businesses from across the swamp of industries are making mobile apps their secret sauce to win over the customers' taste buds. Of course, everyone of them will not turn up to be a billion dollar brand like Airbnb or Uber, but they will pave a way to reach the global audience via their own on-demand mobile application.
Tinge of Personalisation in on-demand apps
Customers love personalization, and they always want more of it. Startups who have jumped into industries where on-demand have still not paved it, it's the right time and right move to pivot with an on-demand app.
If you give your customer everything that your rival is giving but with a lot more personalised tinge and even sprinkle some quickness to your service, you will surely emerge as the real winner. The problem arises when every second business works to become the first one in the market. This means personalisation will invade every industry and works its way to the top.
Conclusion
We hope that you have come to a conclusion that on-demand is not just another passerby, it's like spiderman saving businesses and making them faster.
As an entrepreneur you always try to add some spice of success to your business, right now it's on-demand. Try it, cherish and grow with it.