Top 5 Successful Online Food Delivery Apps in 2023
446 Views
|
5
min
|
Published On: April 5, 2023
Last Updated: April 5, 2023
Online food delivery apps are becoming increasingly popular. They have not only drawn users from around the world but business enthusiasts too. And why not so when this market is expected to reach 0.91 trillion USD in 2023?
Needless to say, these apps have become a staple in the tech industry. So if you are planning to ride the trending wagon wheel of online food delivery business, this is the right time to dive in. But before that, you are required to have a comprehensive look at major players that are currently ruling the market. This will not only provide key insights but also presents you with strategies that have helped them reach their zenith.
So without any further delay let's dive straight into the list of the top 5 successful food delivery apps in 2023.
Key Players of the Online Food Delivery App Industry
If we go with the current market stats, the revenue in the online food delivery segment is expected to show an annual growth rate of 12.33% (CAGR 2023-2027). This way the projected market volume can touch a whopping 1.45 trillion USD by 2027.
Undoubtedly, this is only possible when there are some major players to contribute. Let's go through some of them.
1.Grubhub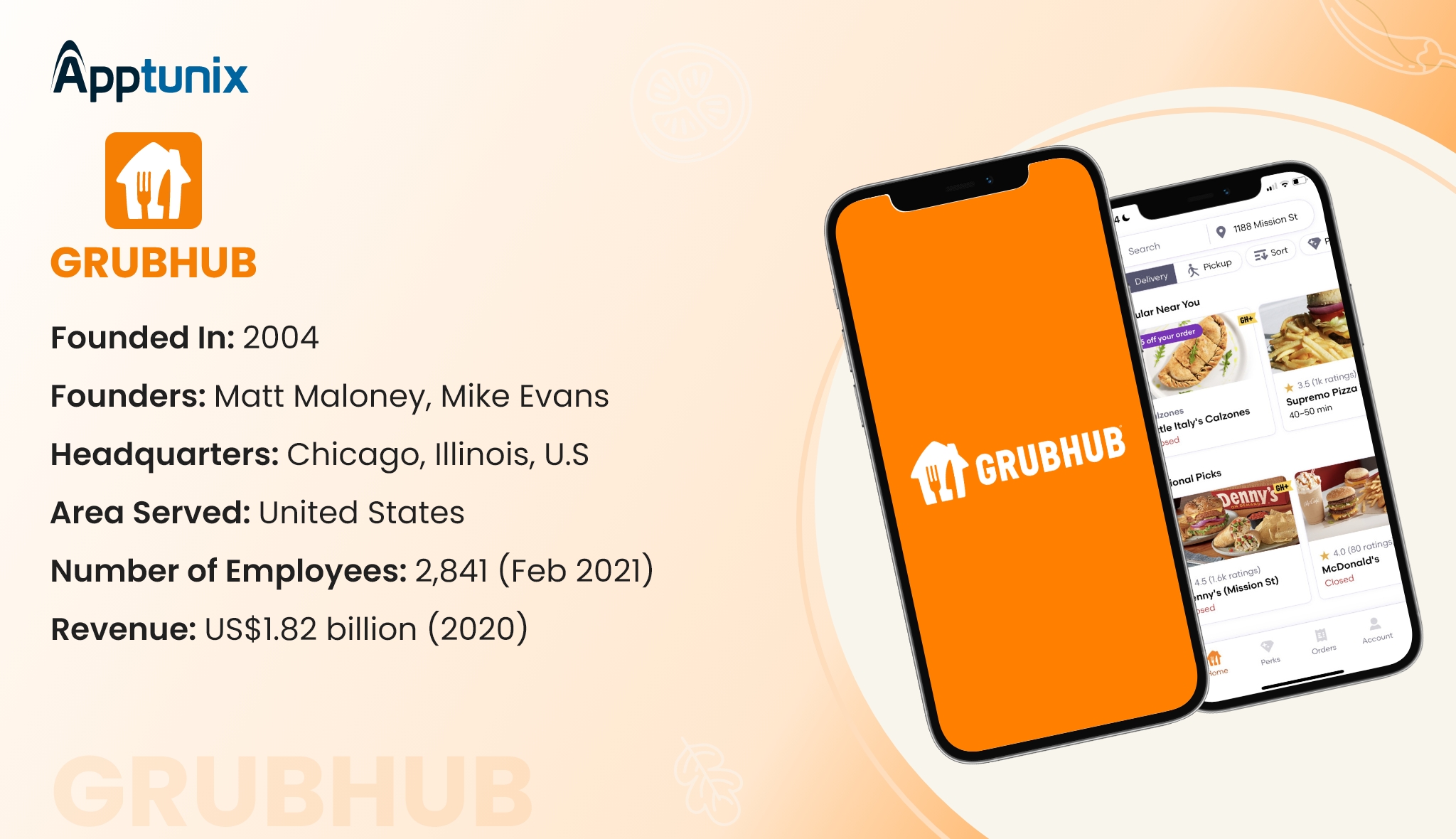 If some online food delivery app has eventually turned a restaurant kitchen into a virtual kitchen Grubhub comes on top. It is known for extending flexible delivery services to restaurants.
Grubhub comes with a simple-to-use working principle. All a user needs to do is, feed the location in the app and all the nearby restaurants will be displayed instantly. If a user wants to search for a particular cuisine or food item, there is also an option for the same. Apart from this, Grubhub allows its users to save multiple delivery options for future use.
But one feature that has helped it increase its customer base is, it saves past orders in its database so that it becomes easy for a user to order any previously ordered item with a single click. The Grubhub app is available for download on the App as well as the Google Play Store. 
Top 5 Features That Make Grubhub Unique
Seamless filtering & search options

Variety of coupons & discounts

"Top picks" for re-ordering

24/7 live customer support

Supplemental delivery services to extend customer base
2.Uber Eats
Needless to say, whether it's about traveling or meals, Uber has earned a solid reputation in both sectors. Some of the advanced features in the form of live tracking, ETA notifications, etc have allowed Uber Eats to beat its key competitors like DoorDash and Grubhub in many areas.
This whole thing has become possible because of Uber Eats' partnerships with a variety of restaurants. Whether it's about international restaurant chains like Mcdonalds' or domestic ones, users can have plenty of choices to satisfy both desire and taste.
Apart from this, impressive offers & discounts are something that has helped Uber Eats achieve massive success within a short period. Moreover, contact-free food delivery is something Uber Eats is known for. Users can easily download the Uber Eats app for both iOS as well as Android devices.
Top 5 Features That Make Uber Eats a Popular Choice
Group orders

Schedule late feature

Easy re-ordering

Marketing tools to reach the maximum audience

One of the largest networks of reliable delivery drivers
3.DoorDash
Whether it's restaurants, bars, grocery stores, or other retailers, DoorDash works with all to offer their users effective delivery solutions. It has so established itself in the market that the world's 3rd largest pizza chain, Little Caesars Pizza, has made a deal with DoorDash.Inc for adding delivery to their operations for the first time in 60 years.
DoorDash has not only created a business but a culture where customers, dashers (DoorDash drivers), and product merchants are equally benefiting. Apart from this, the "delight score" which is set by combining various scoring factors like the quality of the food, popularity of the dish, and speed of the delivery is something that has successfully won the hearts of many users. The DoorDash app is available on both App Store and Google Play Store.
Top 5 Features That Make DoorDash a Key Player
Commitment to offering quality food

Customer satisfaction at its best

On-time delivery

A large team of dashers

Integration with point-of-sale systems to fulfill orders
Also Read: Cost to Develop a Food Delivery App Like DoorDash in 2023
4.Zomato
Founded under the name Foodiebay, Zomato has performed so well in the domestic market that even giants like Uber Eats sold all their Indian business to them for 350 million USD. And why not when it allows its users to choose from a variety of restaurants and dishes anytime they want while maintaining proper hygiene and quality standards?
Apart from this, whether it's affordability, ease of use, refunding, innovation, or overall customer support, Zomato has almost everything a user looks for in an online food delivery platform. The Zomato app is available for download on both App and Google Play Store.
Top 5 Features That Sets Zomato Apart
Intuitive search options

Impressive customer support

Streamlined review features

Seamless sorting based on user's preferences

High hygiene and quality standards
Also Read: 7 Features to Add to Your Zomato Clone and Be a $4 Bn Company
5.Swiggy
Swiggy has emerged as one of the best food-ordering apps within a short duration. Whether it's about interactive UI/UX or a simple call to action button, Swiggy has impressed all age groups. It has earned a good reputation in the Indian market for its fast delivery, no minimum order feature, live order tracking, offers & discounts, and various other services. Apart from this, it presents its customers with features like ratings, delivery charges, estimated time, and distance of all restaurants within its list.
But one thing that has made Swiggy all-time popular, is its availability in almost all major cities of India. It is available for both iOS and Android users.
Top 5 Features That Make Swiggy a Top Choice?
GPS to order from nearby restaurants

Wallet feature for storing money and making fast payments

Easy-to-navigate menus

Multiple payment methods

No minimum order criteria
How Apptunix Can Help You Beat the Market Competition?
Apptunix is one of the top online food delivery mobile app development companies that has offered services to both global as well as local clients. If we go with statistics, Apptunix has helped its clients increase ROI by 58%, boost customer retentivity by 60%, hike table reservations by 48%, and increase orders by 52%.
Apart from this, Apptunix has earned a great reputation in the mobile app development industry by offering scalable business solutions at competitive prices. Then why not partner with Apptunix for making a mark in the online food delivery industry?