Home Services Apps – The Future Of Tomorrow | App Development Guide
3636 Views
|
4
min
|
Published On: December 23, 2021
Last Updated: June 3, 2022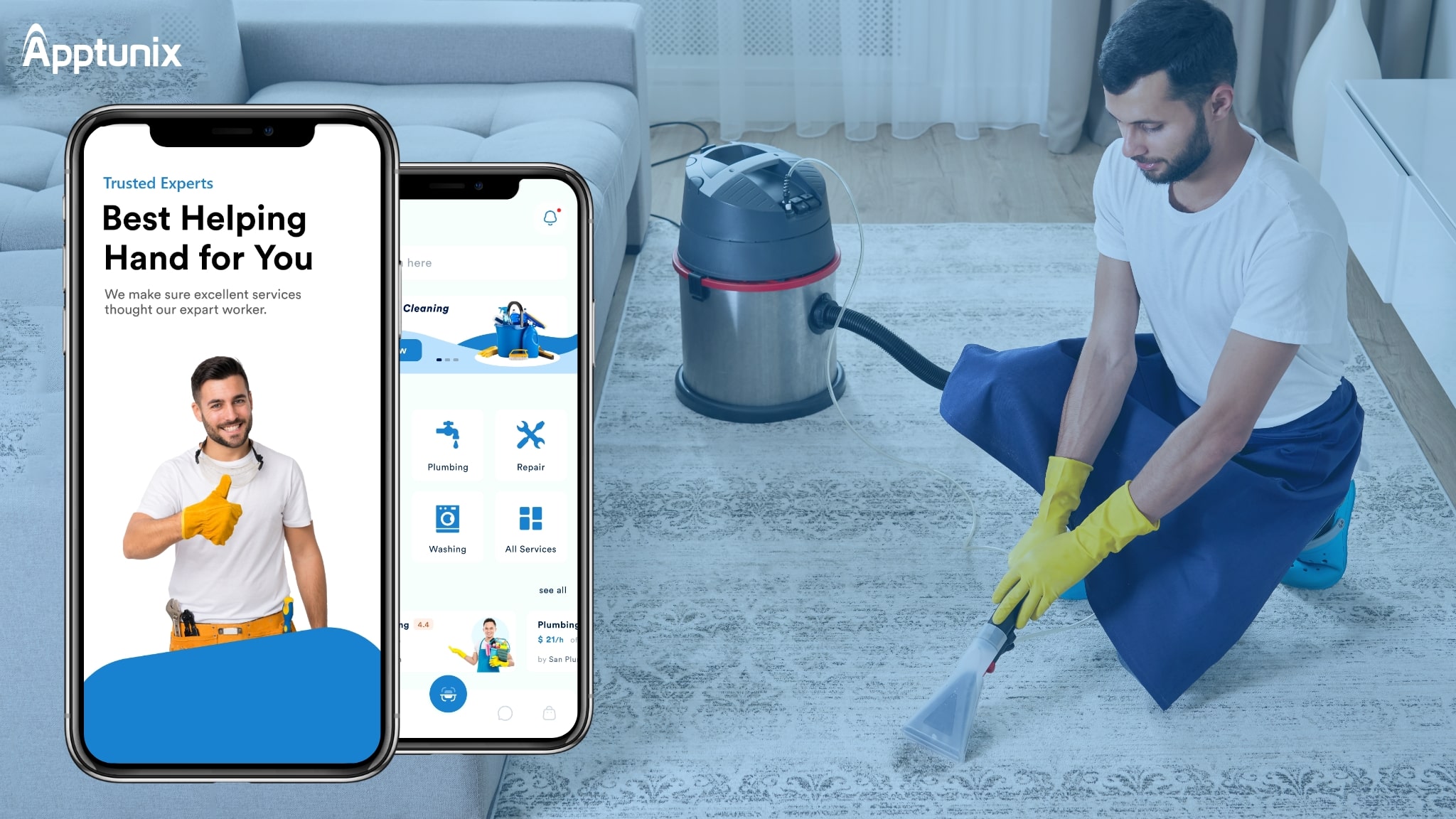 We cannot thank enough to modern technology for making our lives so simple. This modernization has made so many relevant changes in our lifestyle. "Home services apps" is one of the greatest examples of this modern world. 
We all are so busy in our lives that we do not have time for a few important things like home cleaning, decor, renovation, etc. That is why these on-demand home services apps are here to provide all sorts of services under one roof. 
Let us understand this with the example of shopping malls, where we get all our needs in one place. Similarly, if we talk about home services mobile apps, it is an all-in-one portal that offers all the relevant services related to personal care, home care or decor, plumbing, electrician, etc just in one place. 
During the festival season when we need to get our home festival-ready, we don't have to rush to the market for every single service. Users can simply use the on-demand home services apps and get their job done in no time. 
The demand is too high in the market for home services mobile apps. So, if you are planning to develop such apps or want to bring your services online through mobile apps. Do not give it a second thought and immediately contact the best mobile app development company today. 
What "On-Demand Home Services Apps" Holding For Future
Let us know, why these home services apps are so much in demand.
Well, the answer is very simple, because online on-demand home services apps provide the best platform for the service provider to get in touch with the right customer, that too at suitable rates. 
The on-demand home services mobile app like UrbanClap is the platform where the service providers easily find their customers and customers can easily search for the service they want. This is a great place if someone is looking for services like a salon at home, plumbers, electricians, etc.
During lockdown and even now also people are not sure about going to salons or crowded tuition classes or to the busy shops or service centers. That is when on-demand home services app development got popularity and people started using these apps every now and then. These apps are completely safe to use and their service providers are recognized and registered so that customers do not get fooled and don't have to face an unpleasant situation.
Here we have presented a chart where you can see how the on-demand home services apps market is doing and what will be the future of this industry. 
If we consider one of the surveys conducted by the New York Times, then it says that in the USA currently, the on-demand home services apps stand at $600 billion. This data is expected to grow in the coming years said to the experts. 
On-demand Home Services To Offer With Your App
Now, if you are planning to develop an on-demand home services app, then you must know what all sorts of services you can provide to your users or audience. You can either be specific in your services or you can offer all the services mentioned below. Depending upon your need and business requirement you can choose.
Let us see services to integrate with home services apps:
Home Cleaning and Repair App
You can provide users with the services like car repair, electrician, laundry, cleaning, renovation, etc. the service provider who is dealing in any of such services can register themselves, and later customers can contact them as and when required. 
In this, you can add the contact or information of the different types of academic courses happening nearby or in other locations. Users can search here for their respective course and teacher or the service provider can register themselves in this respective category for offering their services. 
Shifting homes services means, here those people can register who are into informing customers about house on rents or helps in moving to another city. If you want to go into the movers and packers business then you can add this service to your home services apps.
Home Design and Construction
People searching for experts who deal in home decor or in minor construction work. They can easily look for their respective service provider. Here those people can register who want to offer services related to home decor, design, and renovation. 
One can also add the services related to parties and other events. Service providers like wedding planners, event organizers and etc can register and offer their services to the customers. The easiest way to connect with the right audience.
If you are a dietician, physiotherapist, etc, and want to offer your services to the users. Such people can also register with home services apps and can connect with the right audience. 
Tech-Stack Used For On-Demand Home Services App Development
What technology is used for developing on-demand home services apps?  Here we have discussed the tech used for on-demand home services app development. This is the basic representation of the tech stack used by our experts.
Wrapping Up
If you think your business does need this type of platform ( online home services apps). Then you must take the advantage of this technology and must bring your business online. Our best app development solutions and experts can be of great help to your new business idea. 
In the end, we all want the best for our business and we think nothing can be better than the online platform. Nothing can promote your services more than online mobile apps or websites.
Rate this article!
(2 ratings, average: 5.00 out of 5)