What Is the Cost of Making an Online Chatting App like Chatango?
4749 Views
|
9
min
|
Published On: November 3, 2020
Last Updated: June 29, 2023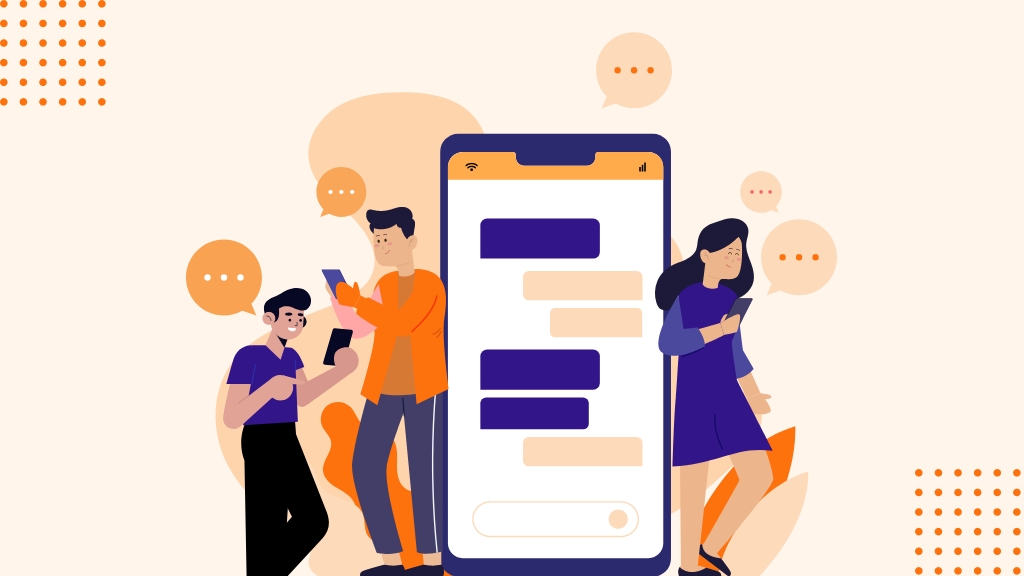 The world is getting smaller as the internet has tied us all in one thread. One upload from your mobile tells millions of people where you are sipping your coffee and in what outfit! The internet has taken over the world with its technology.
Today, people do not only need shelter and food, but also a smartphone with internet connectivity! It has become the primary source of communication in the 21st century.
People like to communicate with each other through phones and they do that not only with calls but also with their hands through texting!
Texting is the language of communication in today's time through online chatting app. People prefer to send texts and have conversations with people. Texting is a convenient active yet passive form of communication as you can have a live chat with someone when they are online. And if they go offline, you can drop the messages and still resume the conversation once both of you are active/online again.
Thus, messaging apps have become the pillar of communication in the world of the internet and Chatango is surely one of them. The chat app in UAE is used to communicate and share media uploads online. 
In this blog, we will learn about the development and function of the chatting app Chatango. Also, we will learn about the overall history of chatting apps. How they came into existence and changed the dynamics of communication? It will be studied in the sections below.
The Journey from SMS to Online Chats
If you are a millennial or even belong to GenZ, you must have memories of the days when the postal services were the major source of communication. People used to wait for the replies and then send their answers with big intervals in between. However, the scenario changed when mobile phones came into operation.
With the usage of mobile phones came the network connectivity that initiated the process of text messaging. People used to send text messages over the phone with the registered mobile number. Earlier this was done by the pager (the text sending device). Later on, it got replaced by mobile phones that did all calling and sending through a registered number.
The evolution of sending messages got a massive upgrade with the internet coming into the limelight. With the help of the internet, people were able to send long messages just with the help of it. No need for registered mobile numbers, internet connection was enough. 
In one of the articles by Mashable, I learned that the instant messaging trend got in swing with the introduction of iChat, or iChat AV, for its Mac OS X operating system in 2002 by Apple. With this, Mac users were able to integrate their address books and Apple Mail in a native app compatible with AIM. In 2011, Apple announced iMessage for the updated Mac OS.
Facebook chat was launched back in 2008 that allowed chatting through the social media platform. From there came Facebook Messenger and WhatsApp, and the rest is history.
The trend of online chatting apps today is in full bloom. Who knows what will be an outdated mobile trend in 2021 and what will be new with the coming times. But one thing will be constant- the need for convenient communication.
Here are some of the facts that prove the statement above.
FACTS
Online Messaging Apps Today Have 20% More User Base than Social Media Platforms- Businessinsider.Com
Today many people may not feel like socializing but they want to be connected to people. The apps like Facebook, Instagram, etc. provides chatting features but are not only bound to that. Many people do not feel the need to share their lives over digital platforms and that is why they choose to download online messaging apps rather than Social media platforms.
In 2017, More than 7billion Conversations Used to Happen Through Messenger.- Kommadotech.Com
Facebook Messenger was one of the emerging online text messaging app that gained popularity in 2017s. Its features like uploading media, sending messages in different colors and formats with great emoticons and stickers gained it a huge user base.
People who chat online prefer to have more apps as different apps serve them with different benefits. More apps give them different online messaging facilities which provide more chances for interactions.
9 Features of Functionality in Online Chatting Apps
Online chatting apps work with different technology frameworks but all of them perform to cater to one objective- effortless online communication through texts and calls. Learn about the basic functionality that is required to develop a messaging app for the user. 
Let us decode each of these features and how they contribute in making a good online chatting app.
1. Easy Register
The person while signing up for the chatting app should be able to register easily. The registration should be ideally done through the phone number as it provides the source of communication. But if not, it could also be done through social media platforms like Facebook, Snapchat, Instagram, etc.
On registering, the app should provide the user with the code to log in for the first time. This provides authenticity and assurance of security to the user. This process should happen every time they install the chatting app on the device.
2. Add Favorites
In online chatting apps, the user can chat with those contacts present in their mobile phone, or with people, they are connected over social media or someone who has installed the same chatting app. majorly connecting through phone number and email Ids.
Giving the user an option to select the people they want to talk to in their chat list gives them a major benefit. They can filter out unwanted people either by blocking them or adding their favorites to their list. They could talk to them individually or through group chats.
3. Upload Media and Sharing Options
The users connect with the online chatting app when they feel like they can express themselves freely and the way they want. By enabling the features like upload media and share it over messages to friends or in the group. It increases the bandwidth of information sharing.
People connect more, talk more as they can share pictures, audios, and videos over the chat.
4. Group Chats
It is one of the important features that users look out for. Users feel an urge to share some information with multiple people or related people. It could be quite hectic if they have to share the same information over and over again. This will lead to "text fatigue."
Making a group brings related people into one category or enclosed conversation tab where all the information is shared and is circulated between group members only. The members can send the messages, reply to them and even mute it if they want. These chat groups have the option to leave too.
In times of COVID19, group chat rooms are very crucial as people while working from home may have to talk about different things, and all the information could be communicated and answered under one conversation tab.
5. Voice Calling
The online messaging apps today are not online restricted to texts but also have paved their way to voice calling. The online chatting app should have features of online voice calling where the user can call the other person (with the same app installed) through internet connectivity.
Such kind of calling does not require any phone number to communicate but definitely a good internet network that could be used through Wifi or hotspot.
6. Video Calling
Online video chat apps have gained massive popularity in recent times. People are connecting with each other not only through instant online text messages but also virtually through online video calls.
According to one of the surveys by lifesize.com, 90% of the participants preferred a video call over a voice call or the text message. The reason behind it is clarity in delivering messages. Users said they feel more clear about the message while having an online video call. 
They can learn about the facial expressions of the person sitting on opposite sides of the mobile screen. It also helps in building personal connections due to human connectivity. Thus, apps today need to have a video calling option. In fact, today many of the apps have features like group video calling where multiple people from different places connect for a video call.
7. Last Seen Management
When you are chatting online, you want to know whether the person on the other side of the phone is available or not. And if not, when was the last time he was available so that you can schedule your text messages accordingly.
The last seen management function allows users to show their online and offline status and also provide their last seen when they were online. In apps like WhatsApp, you have the option either to display or hide your last seen status. In fact, in WhatsApp, you also have a feature to hide the status of the message readability
8. Profile Customization
People like to use the app that acknowledges them and features of profile customization do that. You can put your name, your picture, and a small introduction about yourself.
You can upload pictures through your photo gallery or directly click through the camera and upload it. Along with profile customization, you can change the background of your chatting app and add different filters and frames to your profile picture.
The user can also change the username on the app. The username refers to the identity over which the person could be identified over the app.
9. Status Upload
This is one of the popular features that appear commonly in online chatting apps. Users can upload their status. It could be a picture, video, song, or text message.
People often confuse the status with the user's bio. A user bio is an introduction that could be written with emoticons. Whereas status is like an online album that runs on your profile for a time period. Majorly for 24 hours.
You also have the option to change the privacy on who has access to see your status. Learn about what more features you can add to your chatting app from an experienced mobile app development company.
Chatting Apps in UAE
UAE is a country with discipline rules. The entrance of online chatting apps or video calling was never that easy. However, the country has welcomed some apps that run majorly in UAE and has become a vital source of communication for country residents. Let us look at some of the famous online messaging apps or video calling apps that have gained popularity over there.
It is a long-distance calling online application that could be used worldwide. It comes in two packages- to use it on your 3G/4G cellular data, it costs AED 50 per month. And if you want to use it on your home wifi as well, the payment doubles to AED 100 per month. 
Zoom was earlier not operational in the country. However, after the COVID 19 breakout and physical social distancing, it has been launched. It is used more for office meetings or classroom kind of online sessions. You can also drop messages online while a call is being conducted.
The online chatting app by Google that allows both voice and video calling. It was earlier banned but got permission to operate nowadays due to the COVID 19 outbreak. The app does not have any charges. The VoIP app is completely free and has decent quality audio and video. 
It is the by-product of Du. It is a web as well as online mobile messaging app for the phone. It comes with features of texting, calling, group functions, and also a voice translator. It is free for all Du users of UAE.
This app is useful for online business progression as well as online networking purposes. It facilitates real-time chats and conversation. You can create a free profile and form public and private chat rooms as per your convenience. Users can reach out to each-other through searches and location-based filters. The basis of connection is the common interest or goal.
Chatango Functioning
Chatango is the online messaging app that is used for networking as well as a real-time conversation to increase your business. You can separately create the private and public group chat rooms and have the conversation over there.
The user can make their account with a username and password. While registering, they also have to mention age, gender, ZIP code, and an e-mail address.
Unlike other social media platforms or online chatting apps, Chatango is quite simple to operate and navigate. It searches through the keywords and tags.
Yes, these keywords or tags that a person uses to describe themselves or want to connect with, they need to mention. Based on these tags, they get friend suggestions and initiate the conversation. For example, if someone mentioned "traveler" in their description, they will get connected and have suggestions to add people who like traveling, photography, or adventures.
So, the suggestions and connections are purely based on their interests.
The Online chatting app is made for real-time conversations, but as mentioned above in features of a good chatting app, the user should have the power to restore and read messages when offline, Chatango does the same.
It has an app named Messagecatcher. The user can download it and then have a record of the chats they might have missed when offline.
It is a portable chatroom with both personal and public Chatango chat boxes that allow the online messaging app to have a conversation from any corner of the world.
Development Cost
The online messaging app today is not only restricted to sending messages online but much more. Users expect to have video calls, voice calls, separate chats in groups, and keep them private and public as well. Talking about technology, the infographic below is wholesome of what is required to make a good online messaging app.
These technologies enable different features that make the app function. With apps like Chatango, there is one more feature that is to be considered- filtration with keywords. The app should have a strong framework to search and filter the users on basis of keywords. Along with that, providing group chat rooms for both public and private uses is also required.
Chatango also caters to businesses with integration over user's websites to support real-life chat. Thus to make an app that could be used for networking as well as the business progression through online messaging, the budget estimates on average happens to be around 20,00 US dollars to 30,000 US dollars.
However, the budget could be altered based on what features and domains you want to include. For example in Chatango businesses can also make chat groups, you can pause that feature for a while and develop later in the stage to cut the cost. It all depends on your preferences.
Conclusion
With the world shutting down in lockdown, new ways of communication opened up. Thanks to technology! Online chatting apps have been a great aid for affordable communication with loved ones. 
These apps have not only facilitated mingling with your friends on virtual video chat apps but also helped in having business conferences while working from home.
An online messaging app like Chatango has paved a new way by connecting people through common interests which is quite exciting these days.